We are always excited to announce Industrial Distribution's top 50 compilation of businesses competing in the MRO market – distributing everything from fasteners to safety products. The Big 50 List ranks biggest market movers in the industry based on previous year's global sales.
This year's Big 50 List is based on 2019 sales figures, not yet reflecting the impact of the pandemic. It's no surprise that topping the list at #1 again this year is Grainger at $11.49 billion. Its also not surprising that the disparate range between the #1 and #50 companies continues to grow.  The #2 spot goes to Motion Industries at $6.53 billion – almost $5 billion less but they still moved up from last year.  Other movers included Fastenal, which moved in the top five and HD Supply moved up to #4 four.  But since selling off their construction and industrial portion of their business this year, we can expect them to drop several spots next year.
Mike Hockett, Managing Editor of Industrial Distribution magazine confirmed that the Big 50 List is becoming increasingly top-heavy, reflecting acquisitions of smaller companies by the larger ones. One surprise from 2019 includes Endries that moved up several spots to #32 from last year.  With their aggressive approach in 2020, we may see them rise even higher in the next ranking.
You can access the complete Big 50 List and a more detailed analysis of how companies are faring in 2020 on Industrial Distribution's at https://www.inddist.com/big-50/article/21196314/industrial-distributions-2020-big-50-list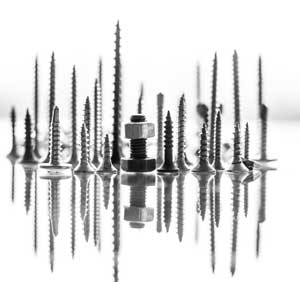 IN THE NEWS:
The Fastener News Report
By Mike McNulty, Fastener Technology International Magazine
For a full report sign up at: http://fastenertech.com/
Results of the Fastener Distributor Index (FDI)
FDI data is collected and analysed by the FCH Sourcing Network and Baird.
The FDI seeks to identify demand pricing and outlook trends within the American fastener distribution industry. The seasonally adjusted FDI for September was 52.0 versus 49.2 in August, welcoming a return to the growth area for the third time in the last four months.
Frank DeVito, from Solution Industries (solutionind.com) believes that we're in a steady trend now, having seen a good mix from a wide variety of distributors across the country. The sales number for this FDI resulted in a jump up to a little bit over 60 points, a nice increase from last month's below 50 points. The forward-looking indicator really had a nicer result of just a little bit here over 60 as well, which is the highest result in over two years.
Frank explained that he is seeing prices increasing to the highest levels since 2011, being driven by higher iron ore, freighting, and plating costs rising.  But the recent FTI survey provides a positive six-month outlook:  61% of respondents expecting higher business into April of 2021 and only 15% believe it will be lower.
So the FDI report this time around is positive and hopefully we continue the momentum next month!
Visit fdisurvey.com to participate in the process and to get a detailed PDF copy of Baird's monthly analysis.
Rose Holm to establish their first USA Manufacturing Facility.

Danish company, Rose Holm, established in 1953, a manufacturer of threaded bolts for the food and beverage, wind power and heat exchange industries will invest $1.35 million to establish its first USA manufacturing facility in the state of Virginia.  The new operation will give the company close proximity to a major customer and further its wind energy efforts. The project expects to create 10 new jobs.
ACQUISITIONS & EXPANSIONS:
Avantus Aerospace has completed two acquisitions, California Screw Products and Fastener Innovation Technology also known as Cal Screw and FIT respectively.
Bearon Manufacturing reports the addition of a new 80,000 square foot manufacturing facility, as well as the acquisition of Yardley Inserts.
Endries International has acquired K & L Sales.
Würth Industry North America also known as WINA has signed a national agreement with DSM to distribute the company's 3D printing materials.
PROMOTIONS:
Brighton Best International/Proferred announced the appointment of Scott Gibson to the position of Proferred Global Sales and Product Director. As well as the promotion of Larry Unger to the position of Proferred National Drywall Account Manager.
Doncaster's Group has appointed Robert Frank as General Manager for its precision casting operation located in Germany.
G & G Safety Fasteners announced that Kevin Sand will take over as CEO and General Manager effective January 1st, 2021, replacing the retiring Bob Bowden.
Bulten has appointed Emmy Pavlovic as Senior Vice President Technology and Innovation