The huge congestion in overseas freight is primarily attributed to peak season congestion and a container shortage and isresulting in rate hikes along with surcharges, as well as delays and all the accompanying cascading issues.
The surcharges vary per carrier, but are generally anywhere from $200 to $500 per container charge.  It is recommended that Importers should pad their transit times by at least one to two weeks to withstand the current delays. Analysts are predicting a difficult first quarter of 2021 for ocean freight and expect that the market will get worse the closer, we get to the Lunar Chinese New Year.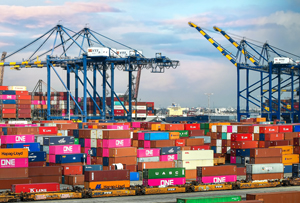 Importers should continue to see rate increases and equipment shortages continue until at least March at the earliest – an unprecedented situation and we could be facing a 100% higher year over year transport costs.
The transportation increases are also affected by the trucking market. Roughly 24% of its drivers retired or move to other industries during the past year. More than 150,000 truckers have left since the start of 2019!  In regards to airfreight, especially for exotic imports from Europe are seeing an increase from  $4 a kilo a year ago to about $15 per kilo.
It is expected that increases across all transportation will continue to go through Q1 as more of that cargo capacity is taken up with pharmaceutical shipments.
Vice President of Würth Western Region, Jeff Schmitt, confirms that they have experienced a seen a huge drop in container and equipment availability and have had to make a number of adjustments with increased lead times, adjusted forecast, and adjusted demand.  He further explained that with China's exports up 20%, their trade surplus continuing to rise, and potential political impacts on things like tariffs with a new president-elect, there is an expected even tighter squeeze in our supply chain as things unfold in Q1 and into Q2.
Schmitt also noted a steady increase in material prices over the past four months now causing an even further surge in pricing. Copper is at an 8-year high, and iron ore and nickel are rising as well.  So, along with material price increases, container and equipment shortages, and any new environmental regulations in China, we can expect an impact our supply chain, certainly through the Chinese New Year.
This episode also includes an interview with Larry Kelly of Buckeye Fasteners. Located on episode #159 at 1:27:11.
IN THE NEWS:
The Fastener News Report
By Mike McNulty, Fastener Technology International Magazine
For a full report sign up at: http://fastenertech.com/
Results of the Fastener Distributor Index (FDI)
FDI data is collected and analyzed by the FCH Sourcing Network and Baird.
The FDI seeks to identify demand pricing and outlook trends within the American fastener distribution industry. The seasonally adjusted fastener distributor index for November was 54.5 moderating slightly from last month, 56.5, but remaining firmly in the growth range.
INSIGHTS on the FDI courtesy Doug Ruggles, president of Martin Fastening Solutions and the immediate past president of the NFDA:
We've seen a tremendous growth as manufacturing continued to invest and grow in fact, we've had the best November we've had in, probably seven or eight years and are expecting a very strong December. We are seeing customers who traditionally close for 8-10 for the holidays, only closing three to four, likely to play catch up because of inability to get components.
Along with congestion in the ports and supply chain constraints coupled with increased sales we expect to see distributor inventory lower.
I recommend following the ITR reports promoted by the NFDA and all the educational sessions that they have, you can stay prepared: https://www.nfda-fastener.org/
We are already seeing price increases on shipping and increased lead times as a result of the shipping disruption, so, distributors have to decide if they absorb the costs, pass it on to customers by building it into your price or put on special one-time fees. Howver, it is expected to be a short-term problem.
SPECIAL ANNOUNCEMENTS:
 
FASTENER TRAINING WEEK – postponed until February 2021 in Cleveland, OH.  You can get your certified fastener specialist accreditation.  https://www.fastenertraining.org/
NFDA is instituting monthly round table educational webinars focused on HR, operations, sales and marketing, and leadership. The first one is January 14th. https://www.nfda-fastener.org/
Pacific West Fastener Association awarded Semmi Sakhuja honorary lifetime membership to the association because of her extraordinary personal contribution to the association and to the industry.
Technavio reports that the aerospace fasteners market will grow by $2.5 billion through the year 2024 ( 6% annually) due to the increased use of the lightweight titanium, with a higher price point than other materials.
ACQUISITIONS & EXPANSIONS:
Dyson is opening a manufacturing facility in Houston, TX to support the growing wind energy market in the Southwest USA.
Platinum Equity has signed an agreement to sell price PriSo Holding Corporation, also known as Prime Source to Clearlake Capital Group.
Colony Hardware Inc has acquired Care Supply Company.
Southern Carlson has acquired Manor Hardware.
The Bossard Group has taken a 40% stake in the start-up company Multi-material Welding AG.
Goebel Fasteners has announced industry Meritech as an official master distributor for Eastern Canada.
PROMOTIONS:
Beacon Fasteners and Components has added Tom Buddenbohn of Budd Sales as a manufacturer's representative for the USA States of Arkansas, Oklahoma, and Texas.
G.L. Huyett has added Bob MacPherson as regional sales manager in the greater Chicago region covering the States of Wisconsin, Illinois, and Indiana.
Avantus Aerospace has appointed Bruce Maynard to the role of vice president business development and marketing and Eric Stoltz to the position of general manager at California Screw Products.
Grainger has hired Anaf Durrani to lead product engineering and Robert O'Keeffe, vice president and treasurer has been appointed interim CFO effective January 1st, 20